The Cheakamus Splash rafting tour was incredibly scenic and the rapids were loads of fun. Phil was an awesome guide! He had a ton of local knowledge and had a great sense of humour which made the trip even more fun! – Danielle W
There's nothing like seeing your kids with big smiles on their faces. And it gets even better when you catch yourself having a great time too! Our Cheakamus Splash family-friendly rafting trip near Whistler combines fun splashy rapids in an awe-inspiring setting. It's sure to be a highlight of your summer.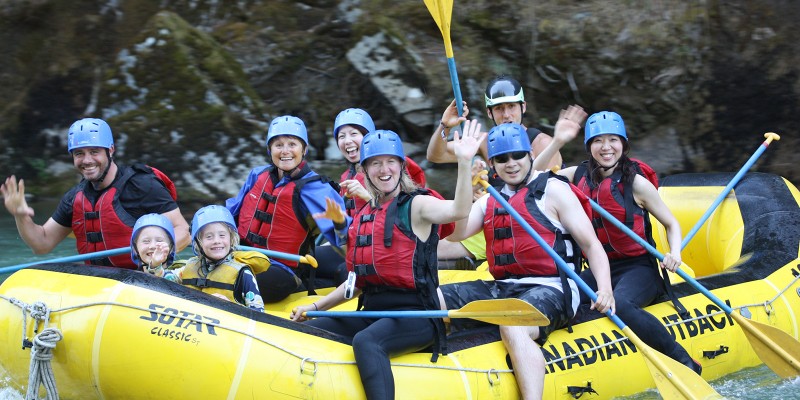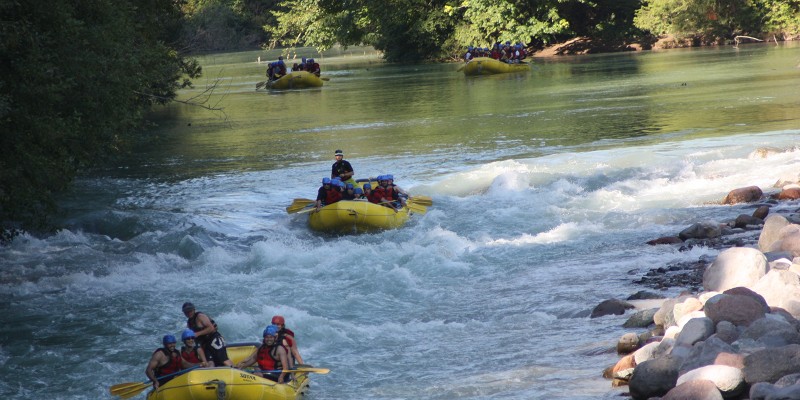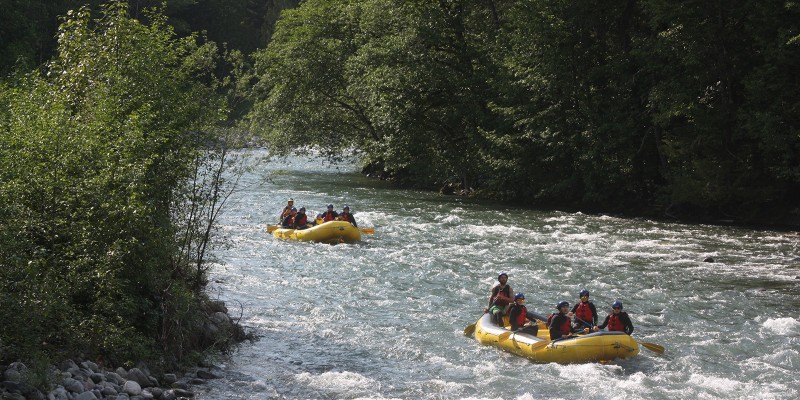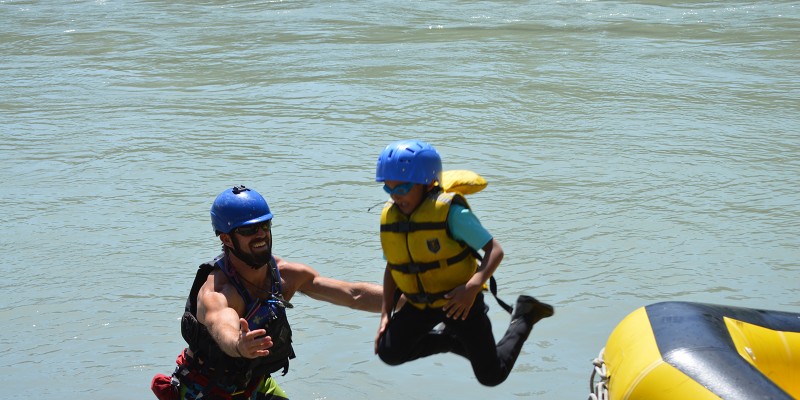 The Family-Friendly Cheakamus Splash. Beware of the Splash Monster!
If you're looking for a unique outing with your kids that will have everyone smiling (including you!), our family-friendly Cheakamus Splash near Whistler has it all. It's classic enviro-friendly activity in the great outdoors for families, children, seniors, and anyone looking for a gentle and fun scenic daytime adventure.
Your guide will ensure your family has everything you need for an amazing day together on the river. We'll greet you when you first arrive, explaining how the day will work and answering any questions. Our guides are the most complimented part of our company. They all take great pride in ensuring your experience is everything you wanted and more.
Our rafts, equipment and gear are top-of-the-line and rigorously maintained. Rest assured knowing that we use only the best and most reliable equipment.
Once riverside, tighten your lifejacket, fasten your helmet and allow the fun to begin. Whether you enjoy quiet moments of floating on a calm stretch of river or bouncing through splashy Class 2 rapids, true family time has arrived!
Soak in lots of small splashy rapids, then marvel at your surroundings with a variety of birds, wildlife, waterfalls, and the towering peaks of the Coast Mountains in British Columbia.
But don't stare at the scenery for too long. Keep an eye out for the infamous Cheakamus Splash Monster! It'll strike when you least expect it, and often kick starts an epic water fight. And on a hot summer's day there's nothing more refreshing. Want to cool off even more? Take a quick dip in the purest, cleanest, jade-tinted water anywhere on the planet.
After your river adventure we'll take you to our breathtaking rafting resort where you'll be able to change out of our rafting gear and into your own clothes. Relax by the fire, play a game of volleyball and share a few laughs watching the great photos our photographer captured of you on the river. Want to take home the photos from the day or the hi-def GoPro video? We've got that too.
Put away the phones and reconnect as a family. The Cheakamus Splash is a ton of fun for the whole family!
Did the Cheakamus Splash this past weekend with 3 small kids and was blown away! Our guide Andraz was very professional and kept us laughing the whole time. We all enjoyed a few exciting rapids, a nice swim and breathtaking scenery. It's an awesome family adventure! – expatmom2015
Quick Facts
Adventure Level: Beginners. Perfect for young families. No prior rafting experience is required.
Minimum Age & Weight: At least 5 years old and weigh minimum 50 lbs.
Check-in: Start and end at our rafting base a short and scenic drive away from Whistler. Round trip transportation from Vancouver and Whistler is available. Ask us for details.
Tour Duration: Approximately 90 minutes of rafting, plus some time getting ready at our base and busing to and from the river. We'll be back at our base approx. 3-3.5 hours after you first arrive.
Your Whistler Rafting Tour Includes:
Instruction, training, and leadership from fantastic rafting guides, the best in the business
Rafting gear, wetsuits (optional on hot days), booties, life jackets, and helmets
River transportation
A snack and drink on the river.
Pricing
Date / Description
Youth (5-16)
Adult (17+)

Apr 20 – Sep 29

Daily Departures: Weekdays at 9:15am and 3:00pm*, Saturdays at 9:15am and 3:00pm*, Sundays at 11:15am and 3:00pm*. *Peak Season
$129.99
$164.99
Date / Description
Youth (5-16)
Adult (17+)

Apr 20 – Sep 29

Daily Departures: Weekdays at 9:15am and 3:00pm*, Saturdays at 9:15am and 3:00pm*, Sundays at 11:15am and 3:00pm*. *Peak Season
$139.99
$174.99
Share your memories! Post your pics & vids online.
Take home all the incredible action shots and GoPro video footage from your rafting trip. It's the perfect way to share (brag) to all your friends on social media.
USB stick full of action shots of you conquering the river for just $55 plus taxes.
GoPro video camera rental and hi-def footage of your rafting adventure for just $55 plus taxes.
Bundle and Save! Get both the USB stick full of your pics and your GoPro hi-def video footage for just $90 plus taxes.
BONUS: Purchase any of the above and get a $30 rafting coupon for you and each of your friends to use the next time you come out rafting with us!
Take Action!
Get out there. Rediscover your sense of adventure.