Looking for something fun to do over the summer? These guys truly run a thrill seeking and adventurous rafting experience. The guides are all very entertaining while maintaining a professional operation. One of my favorite parts of the trip is turning around and looking at the magnificent Mt. Cayley volcano right after some BIG class 4 rapids. I highly recommend this trip to anyone looking to cool down on a hot summer's day. – Shanerr-1111
Whistler's most popular rafting trip, with Whistler's #1 rated white water rafting outfitter.
Mark Burnett of reality TV fame chose the Elaho River for his Eco-Challenge Adventure Race, and for good reason. Get soaked by big Class 3-4 rapids, then relax and marvel at the incredible scenery all around. Then do it all over again.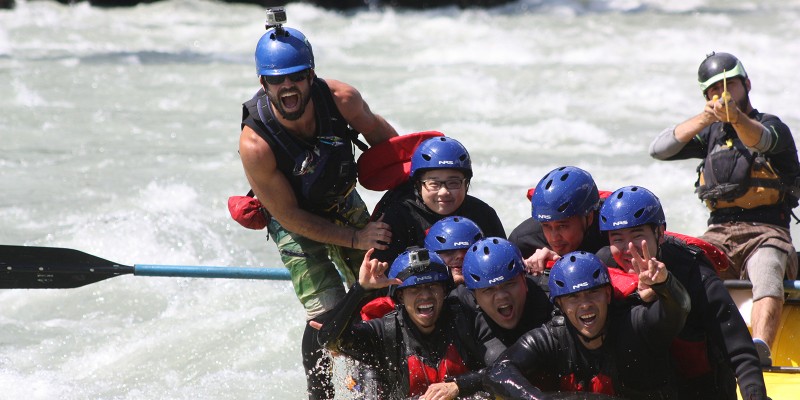 Rafting on the Elaho River in Whistler. Big water. Even bigger views.
The Elaho Exhilarator has it all. Big water and even bigger views. And depending on water levels, you'll also get the chance to really step out of your comfort zone and swim through some smaller rapids and even "ride the bull" up on your raft's bow. Just be ready for the shock of the river, which just 24 hours ago was ice up on the glaciers high above.
Along with some of Canada's most thrilling rapids, your raft will escort you through 2-2.5 hours of Super Natural British Columbia's most inspiring wilderness. Old growth forests, dormant volcanoes, towering glaciers, and stunning waterfalls that cascade hundreds of feet toward the river. Wow! And to top it off, you might even get a glimpse of the local deer, beavers and bears which we often see meandering along the river's edge.
As you assemble at our raft base nearby, you'll notice travelers of all ages and athletic abilities. Many just like you, with your same zest for adventure. Need a ride to our base? No worries. Give is a call to find out the best available options for you and your group.
Your guides, who are the single-most complimented component of our company, will greet you and explain in detail what you may expect throughout your trip. They are pros at keeping you calm as you venture beyond your comfort zone. Our lone goal is for you to have a fun and memorable experience. Your Trip Leader will distribute the appropriate gear and provide a detailed safety talk. Our boats, equipment and gear are top-of-the-line and rigorously maintained. Rest assured knowing that we use only the best and most reliable equipment.
Once riverside, tighten your lifejacket, fasten your helmet and allow the fun to begin. Whether you enjoy quiet moments of floating on a calm stretch of river or paddling through heart-pumping Class 3-4 whitewater, your vacation has arrived! You will experience new thrills, see new parts of the world and create memories to last a lifetime.
After your river adventure we'll take you to our breathtaking rafting resort where you'll be able to change out of our rafting gear and back into your own clothes. Relax by the fire, play a game of volleyball and share a few laughs watching the great photos our photographer captured of you on the river. Want to take home the photos from the day or hi-def GoPro video footage of you pounding through the rapids? We've got that too.
What a great time, everything from start to finish was great. I was greeted by a lively Kiwi named Rick in the morning. After donning our rubber suits we hopped on the bus for an entertaining ride to the river. We then went rafting with Scott down the mighty Elaho. Apart from having an amazing beard, Scott is an excellent guide. Funny, safe, and friendly. Matt the safety kayaker was highly entertaining also, darting around the river like a frolicking seal. The river was a great mix of excitement and scenery. Being Class 4 it is suitable for rafters of all abilities. After finishing the trip we arrived back at the base and enjoyed some refreshments while watching some great photos from the trip. I would highly recommend this trip to anyone wanting to go on an adventure this summer and see how beautiful Canada really is. – palmbayeveryday
Quick Facts
Adventure Level: Adventurous beginners. No prior rafting experience is required.
Minimum Age & Weight: At least 13 years old and weigh minimum 90 lbs.
Check-in: Start and end at our rafting base a short and scenic drive away from Whistler. Round trip transportation from Vancouver and Whistler is available. Ask us for details.
Tour Duration: Approximately 2.5 hours of rafting, plus some time getting ready at our base and busing to and from the river. We'll be back at our base approx. 5-5.5 hours after you first arrive.
Your Whistler Rafting Tour Includes:
Instruction, training, and leadership from fantastic rafting guides, the best in the business
Rafting gear, wetsuits, booties, life jackets, and helmets
River transportation
A snack and drink on the river
Pricing
Date / Description
Youth (13-16)
Adult (17+)

Apr 20 – Sep 29

Daily Departures: Monday - Saturday at 9:00am and 1:00pm**, Sunday at 11:00am. **Peak Season
$169.99
$189.99
Date / Description
Youth (13-16)
Adult (17+)

Apr 20 – Sep 29

Daily Departures: Monday - Saturday at 9:00am and 1:00pm**, Sunday at 11:00am. **Peak Season
$179.99
$199.99
Date / Description
Youth (13-16)
Adult (17+)

Apr 20 – Sep 29

Daily Departures: Monday - Saturday at 9:00am, Sunday at 11:00am
$189.99
$209.99
Date / Description
Youth (13-16)
Adult (17+)

Apr 20 – Sep 29

Daily Departures: Monday - Saturday at 9:00am, Sunday at 11:00am
$199.99
$219.99
Share your memories! Post your pics & vids online.
Take home all the incredible action shots and GoPro video footage from your rafting trip. It's the perfect way to share (brag) to all your friends on social media.
USB stick full of action shots of you conquering the river for just $55 plus taxes.
GoPro video camera rental and hi-def footage of your rafting adventure for just $55 plus taxes.
Bundle and Save! Get both the USB stick full of your pics and your GoPro hi-def video footage for just $90 plus taxes.
BONUS: Purchase any of the above and get a $30 rafting coupon for you and each of your friends to use the next time you come out rafting with us!
Take Action!
Get out there. Rediscover your sense of adventure.