AMAZING….rafting the Elaho is, in itself, one of the best ways to spend a day in the area. But, to stop for the night on your own 'private' island, with some great people, wonderful guides, and an amazing feast all laid out for you…priceless! We were surrounded by stunning views, spotted some river otter and elk tracks, feasted on grilled salmon, and kicked back under the stars (tons and tons of stars). – Christopher W
Sometimes one day just isn't enough. You want to immerse yourself in the great outdoors for a little longer. With our overnight rafting wilderness expedition near Whistler, you'll be able to saturate yourself in nature, connect with other adventurer-minded people, and live stories worth telling.
Get soaked by big Class 3-4 rapids, stare up at the massive mountains and glaciers all around, then relax around the campfire and a great meal with new friends. Super Natural British Columbia doesn't get any better than this.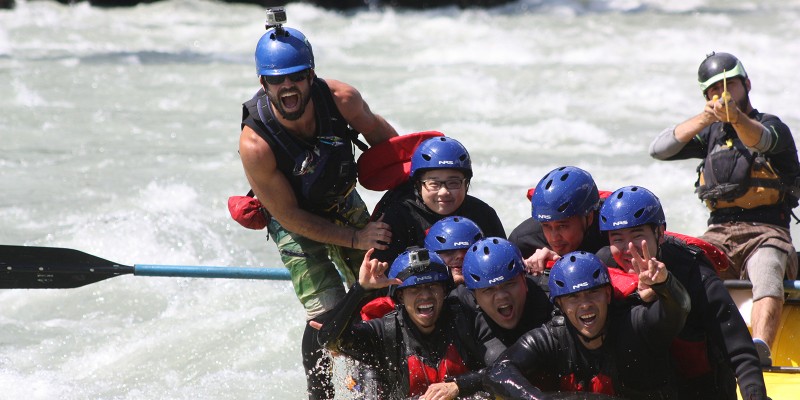 The Overnight Rafting Expedition in Whistler. So close, yet so far away.
Our overnight rafting expedition is like our own Greatest Hits compilation … the best of everything rolled into a fantastic 24 hours.
It all starts with our popular Wet & Wild Elaho Exhilarator rafting trip. You'll ride big waves and catch air as you navigate down the Class 3-4 Elaho and Squamish Rivers. Your courage will be tested as you travel through the infamous "Devil's Elbow" section of the rapids, as seen on TV's famous Eco-Challenge Adventure Race. Depending on the water levels, you'll have the chance to swim through the rapids and "ride the bull!" Just be ready for the shock of the river, which just 24 hours ago was ice up on the glaciers high above.
Along with some of Canada's most thrilling rapids, your raft will escort you through 2-2.5 hours of Super Natural British Columbia's most inspiring wilderness. Old growth forests, dormant volcanoes, towering glaciers, and stunning waterfalls that cascade hundreds of feet toward the river. Wow! And to top it off, you might even get a glimpse of the local deer, beavers and bears which we often see meandering along the river's edge.
We'll wrap up our river journey on Day 1 by beaching the rafts at our private wilderness camp area alongside the river. Now it's time to really relax. Enjoy some hors d'oeuvres while your guides prepare a delicious three course dinner for you. Afterwards, chill out by the fire and absorb the spectacular views all around. As dusk turns to dark, marvel at the millions of stars that light up the sky. It's a moment in time that will stick with you for many, many years.
Awake to Day 2. A peaceful, easy feeling.
Awake to the sound of the river, the aroma of freshly brewed coffee and a delicious breakfast. We'll pack up camp, load everything back on the rafts, and float down the serene waters of the Squamish River, a much more calm section of river. The spectacular combination of sights the Squamish River Valley has to offer is really quite rare … old growth forests, glaciers, dormant volcanoes, waterfalls and a wide variety of wildlife. It's the perfect way to wrap up an amazing adventure.
After your river adventure we'll take you back to our breathtaking rafting resort where you'll be able to change out of our rafting gear and into your own clothes. Relax with your family and friends, play a game of volleyball and enjoy the beautiful sunshine.
24 hours of a howling good time shooting Class 3-4 rapids, breathtaking scenery, and top notch guiding by knowledgeable experts – chique-chique
Quick Facts
Adventure Level: Adventurous beginners. No prior rafting experience is required.
Minimum Age & Weight: At least 13 years old and weigh minimum 90 lbs.
Check-in: Start and end at our rafting base a short and scenic drive away from Whistler. Round trip transportation from Vancouver and Whistler is available. Ask us for details.
Tour Duration: 24 hours. We'll meet at our rafting base on Day 1 at 1PM. We'll have you back to the base on Day 2 at 1PM.
Your Overnight Whistler Rafting Tour Includes:
Instruction, training, and leadership from fantastic rafting guides, the best in the business
Rafting gear, wetsuits, booties, life jackets, and helmets.
Dry bags to keep all your clothes and personal items secure and dry.
River transportation.
A full salmon or steak dinner, desserts, snacks, and breakfast, all prepared fresh riverside by your guides.
Non-alcoholic beverages throughout the trip.
Please note: If practical, bring your own camping equipment. We do have gear available for rent for a nominal fee if needed.
Prices, Dates & Times
At just CDN$499.99 per person, this is one of North America's best multi-day adventure values!
All prices are in Canadian funds. $5 RRF fee and GST not included.
2023 Departure Dates: July 11, July 18, July 27, August 8, August 17. Custom departure dates are always available.
All departures leave on the departure date at 1:00 PM and return at 1:00 PM the following day.
Share your memories! Post your pics & vids online.
Take home all the incredible action shots and GoPro video footage from your rafting trip. It's the perfect way to share (brag) to all your friends on social media.
USB stick full of action shots of you conquering the river for just $55 plus taxes.
GoPro video camera rental and hi-def footage of your rafting adventure for just $55 plus taxes.
Bundle and Save! Get both the USB stick full of your pics and your GoPro hi-def video footage for just $90 plus taxes.
BONUS: Purchase any of the above and get a $30 rafting coupon for you and each of your friends to use the next time you come out rafting with us!
Take Action!
Get out there. Rediscover your sense of adventure.